---
With the growing trends in e-Shopping, banks and credit card issuers are also a step ahead to gain customer attention to their exclusive co-branded credit card segments. Unlike regular credit cards, co-branded cards offer some extra benefits if you use them for a particular online or offline platform. Online retail e-commerce leader Amazon with a partnership with ICICI Bank, introduced an attractive credit card called Amazon Pay ICICI Bank Credit Card. This card is growing its popularity as the benefits are still the same as it launched in 2018. I am using this Amazon Pay ICICI Credit Card since 2020, and I think I can share my good and bad experiences with this card.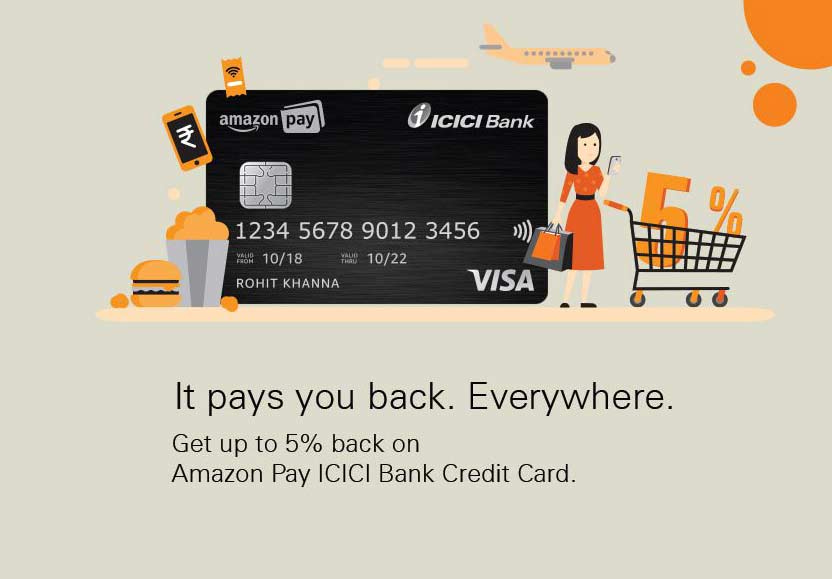 How to get Amazon Pay ICICI Credit Card?
I applied for the Amazon Pay ICICI Card on receiving the invitation from Amazon. Ohh! one thing I forgot to share is that I shop a lot from Amazon. I think, based on the relationship and frequency of shopping Amazon offers this card to their customers. However, if you could not see the invitation on your amazon app or website, you can directly visit the ICICI card portal to apply for the card. It will redirect, if eligible, you to the card application page on the Amazon India portal. Otherwise, I think no such other options are available to apply for an Amazon Pay card.
Application Process
During the application, the applicant needs to complete a video KYC. When I applied, it took approximately 10 mins. All you need to produce some identification documents like PAN, AADHAR, etc. during the KYC. They can ask about your income source or ITR, or Form-16. Once you completed your video KYC, you will receive confirmation within 1 or 2 days. In my case, I received confirmation the next day. If your application is get approved, you will receive your card information by SMS. And you can expect physical card delivery within 7 to 10 days after application.
Offers on Amazon Pay ICICI Credit Card
Let's discuss some benefits of having an Amazon Pay ICICI card.

No Joining Fees: Amazon Pay ICICI Credit card does not have any joining fees.
No Annual Fees: This card is one of the few which do not charge any annual fees. Unlike most of the cards, the card issuer has not set any expense cap to avail of this offer. This means, you use this card or not, you don't need to pay annual fees in any circumstance.
Exclusive Cashbacks: This is an Amazon co-branded card, so you will get exclusive rewards if you use it for shopping on the Amazon shopping platform. You can avail of upto 5% cashback without any upper limit. Amazon Pay ICICI card is most beneficial for those who have an Amazon prime membership. But it is not mandatory to have an Amazon Prime member getting this credit card. You can still get benefited without having a Prime membership. Getting rewards using an Amazon Pay ICICI card other than the Amazon platform is limited. Here is the list of reward rates is offering by Amazon Pay ICICI Credit card:

Prime members can get 5% cashback on purchase most physical items on the Amazon India shopping platform. For non-prime customers, this cashback is limited to 3%. In both cases, there is no upper limit of rewards.
2% cashback is applicable if you make payments to merchants via Amazon Pay.
You can get 1% of cashback for making payments elsewhere using Amazon Pay ICICI Card.

Exclusive Offer ICICI Bank Customers: Like Amazon, ICICI is also offering some extra benefits if you have any sort of relationship with their bank. Suppose you have a savings account with ICICI bank, you can expect some special offers for you. These offers are:

Upto 15% of cashback for paying dining bills at ICICI partnered restaurants across India.
Waiver of 1% on fuel surcharge payments each time you refuel using Amazon Pay ICICI Credit Card.

No Cost EMI: Amazon Pay ICICI Cardholders can avail of a no-cost EMI of 3 to 6 months for most of the fulfilled items listed on Amazon India. Although, orders with no-cost EMIs, do not fetch the cashback.
Some drawbacks of Amazon Pay ICICI Credit Card
Although the Amazon Pay ICICI credit card is packed with a bunch of benefits, I will discuss some of the pitfalls of this credit card.
The major disadvantage I found is that cashback reward points are not adjustable with bill payments. This means you can not convert these points to cash. As cashback gets credited into Amazon Pay wallet, you must use it with shopping at Amazon or making payments with Amazon Pay service.
To get the maximum benefits of this card, you need to have an Amazon Prime subscription. This costs around Rs. 1k yearly.
My Experiences With Amazon Pay ICICI Card
I am using this card for a couple of months, and honestly speaking this credit card is quite beneficial for me as I shop from Amazon regularly. Yah! I have saved a good amount of money after using the Amazon Pay ICICI card. I have two more credit cards from different banks, but how quickly I got this card impressed me. It was paperless and quick. The next day of the application, I received the card information that was nice to me. Apart from this, I have never faced any transaction-related issues using this credit card. In my case, the reward points are get credited into Amazon's wallet on the 5th of every month. But it can vary from user to user and billing cycle.
The thing I don't like is its mobile application. The 'iMobile Pay' application by ICICI is a bit confusing. The mobile application is packed with unnecessary options that make this app so bulky. A separate application may be better, especially for credit cards, without leaving all banking services in a single application. The payments take approx three days to reflect in the account. However, these things are not a deal-breaker at all.
The Bottom Line
The Amazon Pay ICIC Credit Card can be the best option for those who shop on Amazon frequently. This card is one of the few which do not charge any annual fees and joining fees. Of course, it is an entry-level credit card by ICICI bank. So, you can not expect prime benefits with this card. If you don't have a credit card, you can start with Amazon Pay ICIC Card. Since this credit card is limited to Amazon and ICICI Bank, I don't think there will be any benefit in keeping this card unless you make a lot of purchases from Amazon.
Recommended Article: 7 Things to Know Before Getting Your First Credit Card