---
Everybody wants to spend their money as soon as they get a salary. But intelligent people understand the value of money and begin investing early, leading to future fulfillment and security. When investing, the ultimate objective is to reach financial freedom and live life to the fullest without worrying about burdens, even though it takes little sacrifices at first. There are many options available to investors if they wish to invest their money. However, investing without proper knowledge can result in loss of money or may be useless. That's why you should learn and understand the tricks and tactics of investing before you start.
Significance of early investments
As a young person, one is energetic and active and possesses the ability and strength to deal with losses. Yes, investing at the beginning can involve risks, and sometimes it can even result in losses. You can only learn about the nooks and crannies of investing after several years of testing and trials. Once you have mastered investing, you are sure to succeed.
A key factor to success here is time. Learning, investing, and finally achieving all of this requires a lot of time! That is why you should start investing early. Investing relies on compounding, and it increases the value of the money as days go by. We should give money enough time to multiply into a large amount. That's why making investments as early as possible is important.
When you invest 1000 rupees now, you might receive 10000 rupees a few months later. But after a few years, it could be one crore. By being patient, you can accumulate a large amount of money early in life.
Furthermore, starting early will give you the chance to achieve financial freedom in a short period and settle all of your retirement needs.
Benefits of Books in Investing
Initially, young investors might feel confused about where and how to invest. Reading books can be helpful to them as it offers many benefits. Financial books are the core sources of your financial literacy. So, before starting your investing journey, as a young investor, you should start reading books. Believe it or not, maybe you have plenty of financial knowledge, books can even change your thought process of investing. Only a great book like 'Rich Dad Poor Dad', can motivate yourself and tell the path-making process between 'I can't afford it' and 'How can I afford it?'.
Investing in stocks is all about Fear & Greed. Successful investors are those, who can control their emotions even in the worst-case scenario. As an example, you bought some shares of the company after very good research for the long-term. The probability of losing or gaining after one year of investment is 50-50. Whether you gain or lose, you have to control your emotion accordingly. Instead of panic selling or profit booking, you can read companies' balance sheets, annual reports. After all, you have invested for the long term. If the financial of a company is ok, why should you sell or buy? Only books and your personal experiences can significantly help to grow your investment journey.
The 9 Best Books for Young Investors
These are Nine great investing books for beginners you should not miss out on reading if you're just getting started.
The intelligent investor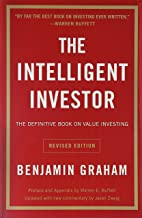 A book by Benjamin Franklin, The intelligent investor, was published in 1949 and still holds a special place in readers' hearts. There are a lot of things you need to know when investing, according to this book. Investing safely and gaining long-term benefits are the themes of the book. It also discusses the mental attitude one must have to be successful. It shows the traits of a wise investor and the things they will consider. It stresses three principles to becoming an Intelligent investor, who will diversify his investments to avoid losses, focus on steady returns, and examine the long-term evolution of the company before investing. Investing legend Warren Buffet describes this book as his favourite investment guide.
Psychology of Money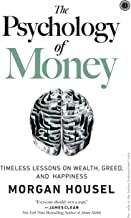 The Psychology of Money, written by Morgan Housel, tells us how psychological and emotional factors impact more on our financial status than the technical knowledge we have about money. Morgan explains with nineteen different stories about how people think of money. At the end of the reading, the book changes our thoughts on money. It emphasizes the difference between the wealthy and being rich in an intelligible manner. It is a must-read book to understand how money works before you start investing it.
A beginner's guide to the stock market
Mathew R. Kratter authored a book, A beginner's guide to the stock market, an invaluable asset for people willing to invest in stock markets but who have no idea what they are doing. The book is also an eye-opener for people who know little about stocks and are struggling to succeed. The book is a guide for investors teaching to differentiate between worthy and unworthy stocks and the blunders to avoid while purchasing them.
One up on the wall street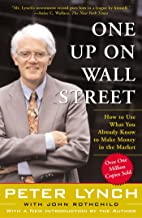 One up on wall street is a book by Peter Lynch and published in 1989. If you are thinking of investing in stocks, this is one of the books you must read. The book teaches about the basics of the stock market and investing. One of the famous quotes from the book by Peter Lynch states that "Investing without research is like playing poker and never looking at cards" Through this, he highlights the importance of research before investing.
Book on rental property investing
The book on rental property investing is a book by Brandon Turner in which he renders knowledge on rental property investments. Investing is not only limited to stocks and bonds, and it is not the only profitable investing zone. Investments can generate good returns from real estate markets also. The book reveals how one can do it. It stresses how you can invest in real estate to generate a passive income for life.
The author advises that the best advice comes from the collective advice of others rather than from a single person. The book is a complete guide on choosing the right deals and explains how to analyze and choose between selling and renting. This book also discusses how to flip houses. It includes practical suggestions from experts across the globe. It has more than 40 stories explaining how to invest in real estate.
Security Analysis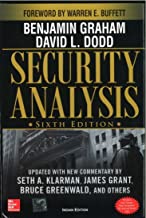 The Security Analysis is a book written by Benjamin Graham and David Dodd. The book elucidates on analyzing the best investments in the market. It mentions that security analysis is deciding between securities that are profitable investments. It explains the characteristics of a worthy investment which includes safety principles and good returns. It spotlights that if an investment does not satisfy the two, it is only a speculation and not an investment. The book includes the functions of security analysis. It gives a clear idea about what questions the investors should ask themselves before investing.
The little book of common sense investing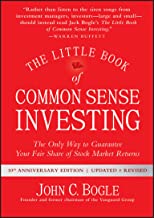 The Little Book of Common Sense Investing is a book by John C. Bogle, and the initial publication was in 2007. The author stresses the vitality of diversifying the investments to lower the risks. If you have already learned the basics of investing, this book will guide you to make the wisest moves to elevate your investment success. It directs on how to create a less-risky portfolio and emphasizes the importance of index funds. He focuses on how the index fund investor will receive the average market return with low investment costs and eventually do better than other investors. The 2017 edition of the book incorporates two more chapters, which are on retirement investment options and asset allocation.
Rich Dad Poor Dad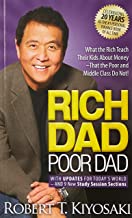 Robert T. Kiyosaki wrote a book titled Rich Dad Poor Dad. The story revolves around the little hero and two different dads. One is the rich dad, and the other is the poor dad. The poor dad is just a dad with the usual mindset about money that every individual has. The poor dad is a professor who works, spends on liabilities, is ignorant to investing, and keeps working by himself throughout his life. Whereas the rich dad was initially poor as he was busy investing his money, and he gradually grew into a millionaire and then had his money work for him rather than himself working. The book clearly explains the difference between liabilities and assets and the necessity to invest in assets rather than liabilities. It illustrates tabular columns for easy understanding. It gives a clear view through the rich dad's mentality to handle money properly by investing it in the right places. It explains why rich people continue to be rich and poor people poor. It teaches everything required for life and that which is not learnable in school.
Stocks to Riches: Insights on Investor Behaviour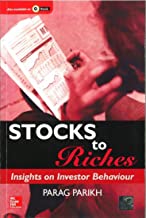 The Stocks to Riches is a book by Late Parag Parikh in January 2005. The author is one of the best investors from India and was on a mission to help the middle class grow their wealth through investing. The book is one of the best investing books for Indian young investors. The book compiles all the basic concepts one needs to know about stocks and investing. The book focuses on how we should stand out from the herd mentality and not just start investing because others are doing so. The book explains sunk cost fallacy and how to avoid it, loss aversion, trading, speculation, and many more concepts related to investing. The book is a good choice for someone starting and an experienced investor who struggles with his emotions in the journey.
One last thought!
Investments are unquestionably a splendid way to succeed quickly if they are performed wisely. By investing in the nine great investing books given above, which rank among the best-investing books for beginners, you can ensure a smooth and trouble-free investing journey.